Post-Surveillance Postcard
Post-Surveillance Postcard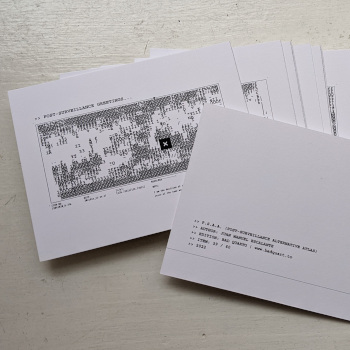 Juan Manuel Escalante, 2020
5.25" × 4" card.
Each Post-Surveillance Postcard is one of a set of 60, with text and images generated using the processes of Juan Manuel Escalante's Post-Surveillance Alternative Atlas project. These can be sent through the US mail as postcards, if appropriate postage is affixed.
Juan Manuel Escalante is a designer and an artist working with computer code, modular synthesizers, and analog drawings. His work is exhibited internationally. He is a member of the National System of Art Creators (National Endowment for the Arts, Mexico) and received the Corwin Award for Electronic-Acoustic Composition in 2016. He has taught creative coding at several universities in the US and Mexico, and is currently an assistant professor at California State University, Fullerton.
Set of 60 unique cards, published June 2022.
$4 / card.