The Life is a Freestyle Quaranzine
The Life is a Freestyle Quaranzine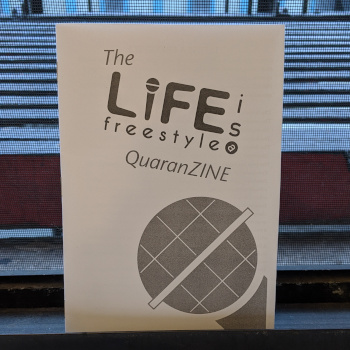 Full Circle, 2020
8.5" × 5.5" zine, inside front cover + 12 pp. + inside back cover.
The Life is a Freestyle Quaranzine is a zine with poetry, art, and essays detailing entailments of the conceptual metaphor "Life is a Freestyle."
Full Circle is a group of eleven rappers who have written about this metaphor extensively and have videos and other resources at lifeisafreestyle.com.
100 copies printed and bound November 2020.
$4. Print run sold out.
Read the zine on your computer.
Download this PDF to print your own copies of the zine. (Use duplex printing, with "short edge" or "landscape.")